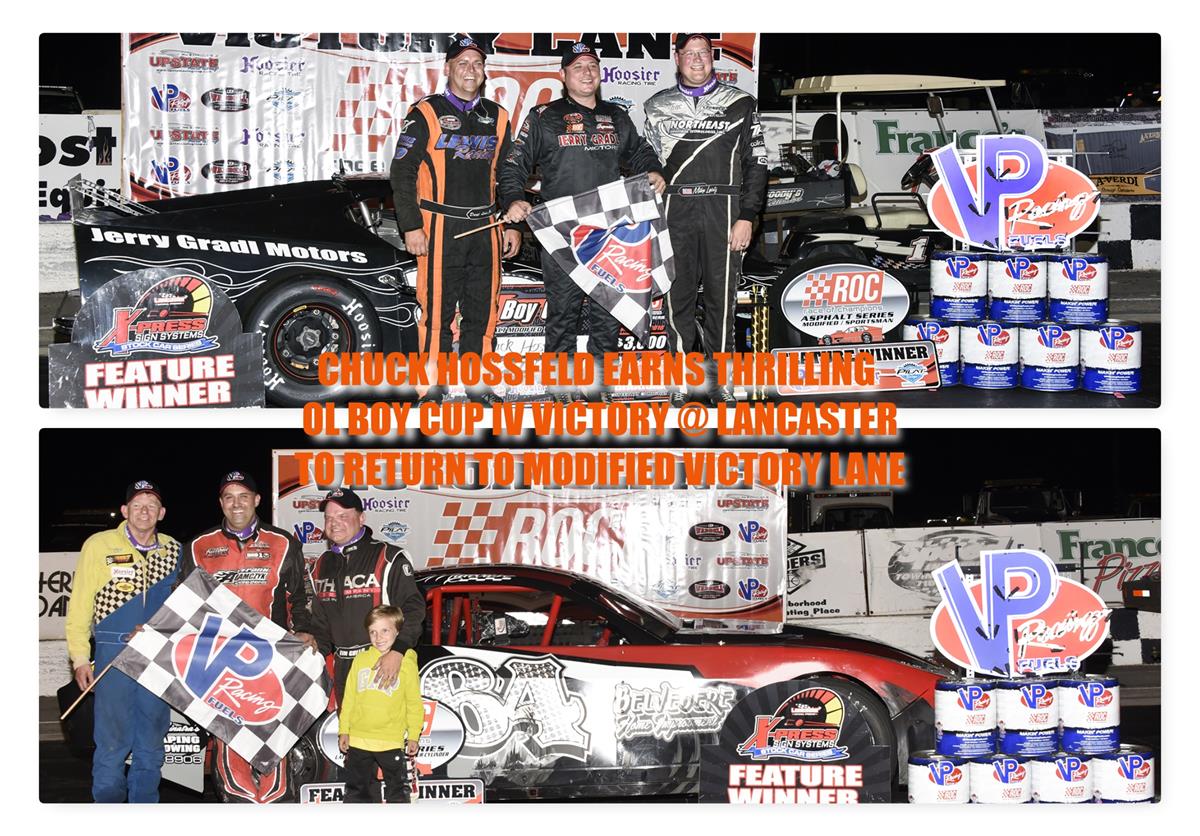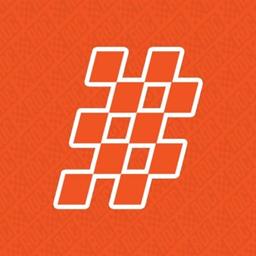 7/1/2018
Race of Champions
---
CHUCK HOSSFELD EARNS THRILLING OL BOY CUP IV VICTORY AT LANCASTER NATIONAL SPEEDWAY TO RETURN TO RACE OF CHAMPIONS ASPHALT MODIFIED SERIES VICTORY LAN
-Joe Mancuso Holds Off Chuck Anderson to Top Spot in Race of Champions Super Stock Feature-
Chuck Hossfeld of Ransomville, N.Y., earned his 28th career victory in an emotional fashion this past Thursday at Lancaster (N.Y.) National Speedway when he won the race honoring the man who gave him his start in Modified racing, Bill Colton, the Ol' Boy Cup IV. It was the series 250th race and the 50th time the series ran at Lancaster.
Hossfeld took the lead on a lap 20 restart from Daryl Lewis, Jr., of Ontario, N.Y., and had to hold off a hard Mike Leaty of Williamson, N.Y., to claim the win.
"We have worked hard to get back here," stated Hossfeld in victory lane. "This means a lot to me, to us, this was a great race. Mike (Leaty) ran us clean and I knew he was coming. I really wanted to win this race because of Bill (Colton), he is a great man and I'm proud of all that he did to help me and this track. He loved this place and this is a great way to honor him."
Leaty, who started 11th, came through the field in rapid fashion to pressure Hossfeld. On the last lap Leaty went to the outside of Hossfeld in turn three and the duo dragged race to the start/finish line to finish second to Hossfeld by .019 seconds the closest margin of victory recorded electronically in the history of the series.
Lewis held on for third, while Patrick Emerling of Orchard Park, N.Y., finished fourth with Daren Scherer of Binghamton, N.Y., rounding out the top-five.
Chuck Hossfeld won the overall fast time for the third time earning the Speed51.com "Top of the Board" Award.
Leaty, Cam Barber of Bliss, N.Y., and Hossfeld earned the PavedTrackDigest.com qualifying race victories.
Joe Mancuso of Buffalo, N.Y., scored his first Race of Champions Super Stock Series victory of the season in an exciting 30-lap feature. Mancuso started third and worked his way to the lead but was chased throughout by Tommy Barron of Ontario, N.Y., who finished second. Tim Gullo of Elmira, N.Y., recovered from a late race spin to finish third.
"This is a great victory for our team," stated Mancuso from victory lane. "We almost had the opener here until we spun in oil. This is a bit of redemption for us. I couldn't be happier for our entire team."
Roy Hayes of Concord, N.C., came to Lake Erie and took home the victory in the season opening Race of Champions Late Model Series event presented by CPS (Center for Plastic Surgery). Hayes held of Jeric Johnson of Mooresville, N.C., to earn the victory.
Tommy Krawczyk of Buffalo, N.Y., finished fourth and Chuck Anderson of Alden, N.Y., finished fifth.
Krawczyk and Gullo won the qualifying races.
The Race of Champions is a sanctioning body presenting Modified and Stock Car racing on asphalt and dirt surfaces throughout the Northeast, with events in New York, Pennsylvania and New Jersey with primary marketing partners Hoosier Racing Tire, VP Racing Fuels, US Army, Upstate Automotive Group, Waddell Communications, Pilat Graphic Design, Jerico Performance, TDH Refrigeration, Sherwood Racing Wheels, PavedTrackDigest.com and Speed51.com. The 68th annual Race of Champions weekend will take place in 2018 at Lake Erie Speedway in North East, Pennsylvania and is the second longest consecutive auto-racing event in North America, second only to the Indianapolis 500.
For more information, contact;
Race of Champions Media at media@rocmodifiedseries.com
Follow us on Twitter; Instagram and Facebook; @RoCModSeries or visit our website: www.rocmodifiedseries.com
Feature Finish
Ol' Boy Cup IV (60-laps)
Lancaster National Speedway, Lancaster, N.Y.
Finishing Position, Car Number, Driver, Laps Completed, Reason Out (If Any)
Finish Starting Position No. Name Laps
1 2 22 Chuck Hossfeld 60
2 11 25 Mike Leaty
3 1 10 Daryl Lewis, Jr.
4 5 07 Patrick Emerling
5 10 3 Daren Scherer
6 7 12x Andy Jankowiak
7 13 65 George Skora, III
8 23 59 Karl Heh
9 21 64 Amy Catalano
10 3 45 Eric Beers
11 18 88 Scott Wylie
12 19 4 Zack Knowlden
13 20 45 Timmy Catalano
14 14 14 Kreig Heroth
15 12 32 Tyler Rypkema
16 15 40 Alan Bookmiller
17 8 54e Jack Ely
18 17 71 Danny Knoll, Jr.
19 4 2 Kevin Miller
20 16 54 Tommy Catalano Electrical
21 6 01j John Barber
22 9 01c Cam Barber
23 22 1 Chris Risdale Overheating
Time of Race: 30 minutes .09 seconds Average Speed: 59.764 mph
Fast Qualifying Lap: Chuck Hossfeld
Lead Changes: 1 among 2 drivers (Daryl Lewi, Jr., 1-20; Chuck Hossfeld 21-60)
Speed51.com "Top of the Board" Award; Chuck Hossfeld (16.932 second @ 106.308 mph)
Paved Track Qualifying Race Winners; Chuck Hossfeld (3); Cam Barber (1); Mike Leaty (2)
Jerico Performance "Jammin' Gears Awards"; Karl Hehr (Advanced 15 positions in feature)
US Army Top Performer Award; Mike Leaty (17.248 seconds @ 104.179 mph lap 37)
Jan "Pops" Leaty Award – Leader Lap 25 – Chuck Hossfeld
$100 Bicknell Racing Products Certificate Award (Third Place) – Daryl Lewis, Jr.
MyRacePass "Free Pass" Award – (No Eligible Driver, No "Free Pass" Given during race")
Feature Finish
Ol' Boy Cup IV "30"
Lancaster National Speedway, Lancaster, N.Y.
Finishing Position, Starting Posiiton, Driver, Laps Completed, Reason Out (If Any)
1 3 Joe Mancuso
2 5 Tommy Barron
3 6 Tim Gullo
4 7 Tommy Reese
5 4 Chuck Anderson
6 2 Tommy Krawczyk
7 1 Zach Willis
8 11 Dana Novoa
9 13 Josh Hunter
10 15 Josh Schoonmaker
11 8 Aaron Higgins
12 12 Vern Hedderick
13 9 Joel Gleason
14 10 Robert Fink
15 14 Jeff Whalen
16 16 Ron Richter
Qualifying Race Winners; Tommy Krawczyk, Tim Gullo
---
Submitted By: Joe Skotnicki
Back to News