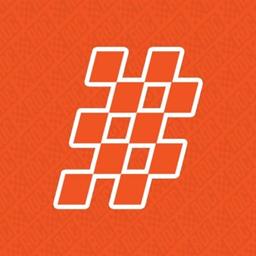 8/3/2018
Race of Champions
---
"SPEEDY" MIKE LEATY FENDS OFF CHALLENGES TO SCORE HIS VICTORY IN 2018
Mike Leaty of Williamson, N.Y., has been on the brink of winning a race during the 2018 season. In the Series last visit to Lancaster (N.Y.) National Speedway he finished second to Chuck Hossfeld of Ransomville, N.Y., in one of the closest finishes in Series history. At Jukasa Motor Speedway in Nelles Corners, Ontario, he led until the final restart when his teammate Patrick Emerling of Orchard Park, N.Y., slipped by. On Thursday evening at Lancaster Leaty was not going to be denied and went on to collect his 9th career victory.
"This one is for Pops," stated Leaty from victory lane, dedicating the victory his Grandfather who passed away during the off season. "We needed this for sure, we've been close on a few occasions and we finally closed the deal. Patrick (Emerling) was strong and George (Skora) was running good tonight. We have had a fast car, we just needed to close the deal. I need to thank my Dad, Jeff and all my guys that part of the L2 team. This feels really good."
George Skora, III of Eden, N.Y., redrew the pole position and led the field to the green flanked by Danny Knoll, Jr., of North Tonawanda, N.Y.
Skora led the first 12 laps before a dramatic battle with Leaty where the duo swapped the lead back and forth during a restart exchange. Leaty then had another battle with Emerling over the top spot, as the lead changed hands 5 times in the 50-lap race.
Emerling came home second after starting 11th. Skora was able to hold on for third.
Andy Jankowiak of Buffalo, N.Y., came home fourth after some coolant system problems during practice forced him to start 15th in the feature.
Hossfeld rounded out the top-five after starting 7th.
Hossfeld nailed down another Speed 51 "Top of the Board" Award in group qualifying with a lap of 16.906 seconds (106.471 mph).
Leaty, Hossfeld and Skora won the three qualifying races.
The Race of Champions Asphalt Modified Series is in action on Saturday evening once again at the Chemung (N.Y.) Speedrome in the Rod Spalding Classic along with the Race of Champions Super Stock Series, who compete in the Tribute to Ed McGuire 51, which is a $1,000-to-win race for the Series and has over $6,800 in purse an additional bonus prize and lap money posted for the 51-lap event. Racing begins at 6:00pm at Chemung.
The Race of Champions is a sanctioning body presenting Modified and Stock Car racing on asphalt and dirt surfaces throughout the Northeast, with events in New York, Pennsylvania and New Jersey with primary marketing partners Hoosier Racing Tire, VP Racing Fuels, US Army, Upstate Automotive Group, Waddell Communications, Pilat Graphic Design, Jerico Performance, TDH Refrigeration, Sherwood Racing Wheels, PavedTrackDigest.com and Speed51.com. The 68th annual Race of Champions weekend will take place in 2018 at Lake Erie Speedway in North East, Pennsylvania and is the second longest consecutive auto-racing event in North America, second only to the Indianapolis 500.
For more information, contact;
Race of Champions Media at media@rocmodifiedseries.com
Follow us on Twitter; Instagram and Facebook; @RoCModSeries or visit our website: www.rocmodifiedseries.com
Feature Finish
Modified Mania 50 (50-laps)
Lancaster National Speedway, Lancaster, N.Y.
Finishing Position, Car Number, Driver, Laps Completed, Reason Out (If Any)
Finish Starting Position No. Name Laps
1 6 25 Mike Leaty 50
2 11 07 Patrick Emerling
3 1 65 George Skora, III
4 15 12x Andy Jankowiak
5 7 22 Chuck Hossfeld
6 12 3 Daren Scherer
7 10 54c Tommy Catalano
8 4 10 Daryl Lewis, Jr.
9 3 88 Scott Wylie
10 9 54e Jack Ely
11 5 34 Tony Buffamonte
12 2 71 Danny Knoll, Jr.
13 18 45c Timmy Catalano
14 16 59 Karl Hehr
15 8 64 Amy Catalano
16 14 27 Billy Whittaker
17 13 40 Alan Bookmiller 41 Accident
18 19 99x Andy Short 36
19 17 99 Bill Mislin 31 Over Heating
Time of Race: 25 minutes and 23 seconds Average Speed: 59.096 Margin of Victory: .255 seconds
Lead Changes: 5 among 3 drivers. (George Skora, III 1-12; Mike Leaty 13; Skora 14-15; Leaty 16-17; Patrick Emerling 18; Leaty 19-50)
Speed51.com "Top of the Board" Award; Chuck Hossfeld (16.906 seconds @ 106.471 mph)
Paved Track Qualifying Race Winners; Chuck Hossfeld (4); Mike Leaty (3); George Skora, III (1)
Jerico Performance "Jammin' Gears Awards"; Andy Jankowiak (Advanced 11 positions in feature)
US Army Top Performer Award; Mike Leaty (17.231 seconds @ 104.463 mph lap 21)
Jan "Pops" Leaty Award – Leader Lap 25 – Andy Jankowiak
$100 Bicknell Racing Products Certificate Award (Third Place) – Chuck Hossfeld
MyRacePass "Free Pass" Award – (No Eligible Driver, No "Free Pass" Given during race")
---
Submitted By: Joe Skotnicki
Back to News