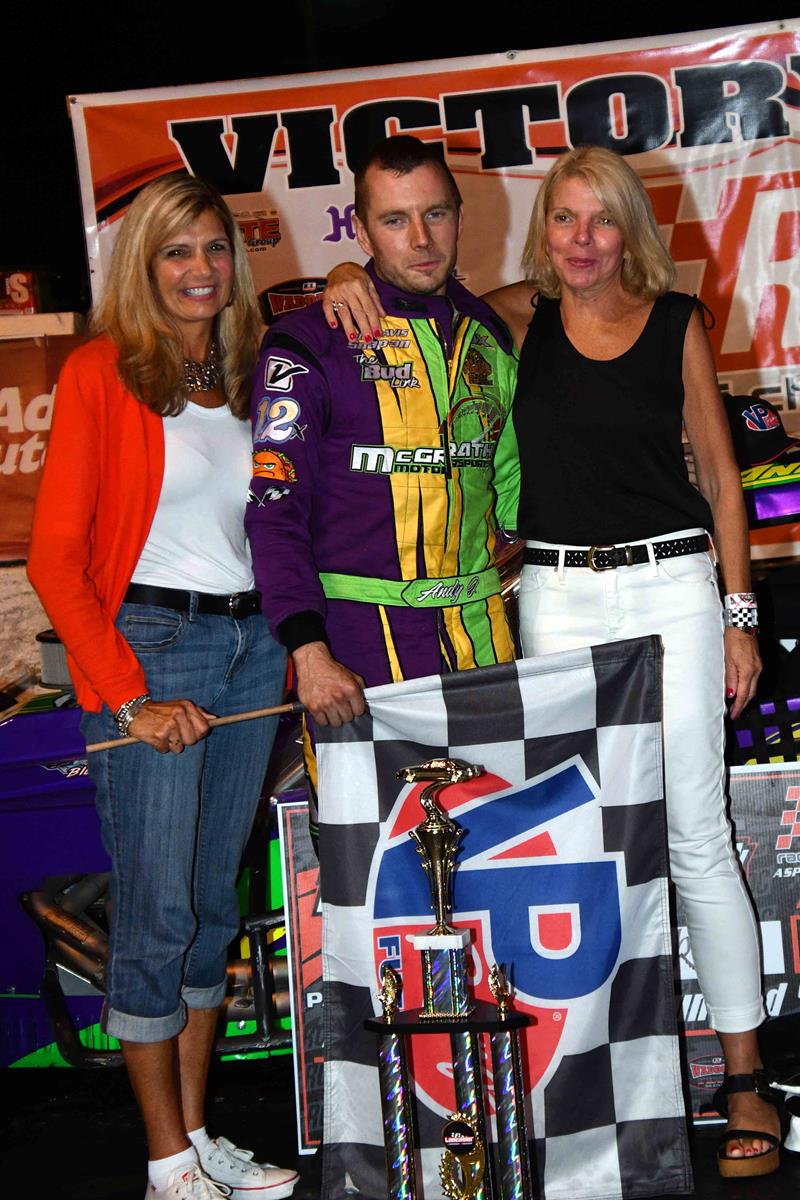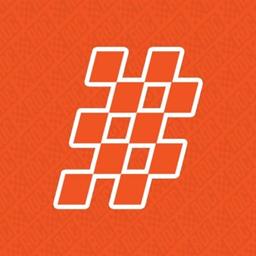 8/20/2018
Race of Champions
---
ANDY JANKOWIAK RUNS TO VICTORY ON SATURDAY NIGHT IN TRIBUTE TO TOMMY DUAR / TONY JANKOWIAK AT LANCASTER NATIONAL SPEEDWAY
Andy Jankowiak of Buffalo, N.Y., pulled into an emotional victory lane Saturday night at Lancaster (N.Y.) National Speedway after the 29th annual running of the Tribute to Tommy Druar / Tony Jankowiak 110.
Jankowiak, a Lancaster National Speedway competitor, throughout his career, has made several attempts to win the race that honors his late Father and Uncle, with many of his family members and close friends in attendance, but the opportunity has always eluded him. Saturday night he capitalized on the opportunity and drove to his 6th career Race of Champions Asphalt Modified Series victory and his second of the 2018 season.
"This is big for everyone here," stated Jankowiak in victory lane. "I don't think it's all set in yet, but this is a race I've wanted. It's exciting and things went our way. Patrick (Emerling) raced me hard and clean. We made contact, but nothing over the line. It was good hard racing. I need to thank everyone involved with us and our team. I could go on all night, I won't but I could. This feels really good."
Scott Wylie of Blasdell, N.Y., and Patrick Emerling of Orchard Park, N.Y., led the field to the green for the 110-lap event with Wylie leading the first circuit before Emerling held on to the top spot for the next 37 circuits.
Emerling led a majority of the field to pit road, including Jankowiak, on lap 39 for a fresh tire. This gave the lead to Daren Scherer of Binghamton, N.Y., who had a spirited battle with Ontario, N.Y.'s, Tommy Catalano. Catalano took over the top spot on lap 52 before Jankowiak raced his way to the top spot. Jankowiak survived several challenges from Emerling to win the event.
Emerling finished second. Daryl Lewis of Ontario, N.Y., continued an outstanding season with a third place run after starting 13th.
Mike Leaty of Williamson, N.Y., finished fourth while Eric Beers of Northampton, Pa., rounded out the top-five.
Chuck Hossfeld of Ransomville, N.Y., earned another Speed51.com "Top of the Board" Award with a fast lap of 17.040 seconds (105.634 mph). Scherer, Jankowiak and Hossfeld won the qualifying races.
Tim Gullo of Elmira, N.Y., won the Race of Champions Super Stock Series caution free 37-lap feature after a spirited battle with Joe Mancuso of Buffalo, N.Y., and Tom Barron of Ontario, N.Y.
Barron held the stop spot as Gullo and Mancuso worked their way to the front. Gullo and Mancuso swapped second and third, with Gullo finally earning the advantage and ultimately wrestling the lead from Barron.
"It was an incredible race," Gullo stated in victory lane. "We battled hard and clean. Joe (Mancuso) and Tommy (Barron) are great competitors and this was a great race to have in front of this crowd. We are very thankful to be here and honor two great racers and their families. This is a special win."
Mancuso and Gullo won the qualifying races.
The Race of Champions is a sanctioning body presenting Modified and Stock Car racing on asphalt and dirt surfaces throughout the Northeast, with events in New York, Pennsylvania and New Jersey with primary marketing partners Hoosier Racing Tire, VP Racing Fuels, US Army, Upstate Automotive Group, Waddell Communications, Pilat Graphic Design, Jerico Performance, TDH Refrigeration, Sherwood Racing Wheels, PavedTrackDigest.com and Speed51.com. The 68th annual Race of Champions weekend will take place in 2018 at Lake Erie Speedway in North East, Pennsylvania and is the second longest consecutive auto-racing event in North America, second only to the Indianapolis 500.
For more information, contact;
Race of Champions Media at media@rocmodifiedseries.com
Follow us on Twitter; Instagram and Facebook; @RoCModSeries or visit our website: www.rocmodifiedseries.com
Feature Finish
Tribute to Tommy Druar / Tony Jankowiak 110 (110-laps)
Lancaster National Speedway, Lancaster, N.Y.
Finishing Position, Car Number, Driver, Laps Completed, Reason Out (If Any)
Finish Starting Position No. Name Laps
1 6 12x Andy Jankowiak 110
2 2 07 Patrick Emerling
3 13 10 Daryl Lewis, Jr.
4 7 25 Mike Leaty
5 12 45b Eric Beers
6 4 22 Chuck Hossfeld
7 5 54c Tommy Catalano
8 9 3 Daren Scherer
9 10 54e Jack Ely
10 17 64 Amy Catalano
11 15 0 Randall Richards
12 1 88 Scott Wylie
13 3 17 Danny Knoll, Jr.
14 14 07 Patrick Emerling
15 8 65 George Skora, III 104, Accident
16 11 40 Alan Bookmiller 43, Accident
17 18 1 Chris Risdale 43, Accident
18 19 45c Timmy Cantalano 36, Ignition
19 20 1 Mike Ramos 10, Overheating
20 21 X Jody London 6, Vibration
21 22 6 Shawn Nye 5, Ignition
22 16 37 Matt Druar 3, Bearing
Time of Race: 57 minutes and 37 seconds Average Speed: 57.405 mph Margin of Victory: .194 seconds
Lead Changes: 5 among 5 drivers. (Scott Wylie – Grid, Patrick Emerling 1-38, Daren Scherer 39-51, Tommy Catalano 52-65, Andy Jankowiak 66-110 )
Speed51.com "Top of the Board" Award; Chuck Hossfeld (17.040 seconds @ 105.634 mph)
Paved Track Qualifying Race Winners; Chuck Hossfeld (6); Daren Scherer (1); Andy Jankowiak (1)
Jerico Performance "Jammin' Gears Awards"; Daryl Lewis, Jr. (Advanced 10 positions in feature)
US Army Top Performer Award; Patrick Emerling (17.313 seconds @ 103.968 mph lap 93)
Jan "Pops" Leaty Award – Leader Lap 25 – Patrick Emerling
$100 Bicknell Racing Products Certificate Award (Third Place) – Daryl Lewis, Jr.
MyRacePass "Free Pass" Award – (No Eligible Driver, No "Free Pass" Given during race")
Feature Finish
Tribute to Tommy Druar / Tony Jankowiak (37-laps)
Lancaster National Speedway, Lancaster, N.Y.
Finishing Position, Car Number, Driver, Laps Completed, Reason Out (If Any)
Finish Starting Position No. Name Laps
1 4 71 Tim Gullo 37
2 2 64 Joe Mancuso
3 1 28 Tommy Barron
4 6 75a Chuck Anderson
5 3 75w Zachary Willis
6 8 48 Tommy Krawzcyk
7 5 81 Tommy Reese
8 10 52 Joel Gleason
9 7 96 Dana Novoa
10 11 48b Eric Brown 36
11 12 1 Vern Hedderick 35
12 13 89 Jeff Whalen 28, Overheating
13 9 7 Josh Hunter 24, Overheating
14 14 31x Ron Richter 2,
Qualifying Race 1; Joe Mancuso – Qualifying Race 2; Tim Gullo
---
Submitted By: Joe Skotnicki
Article Media
Back to News