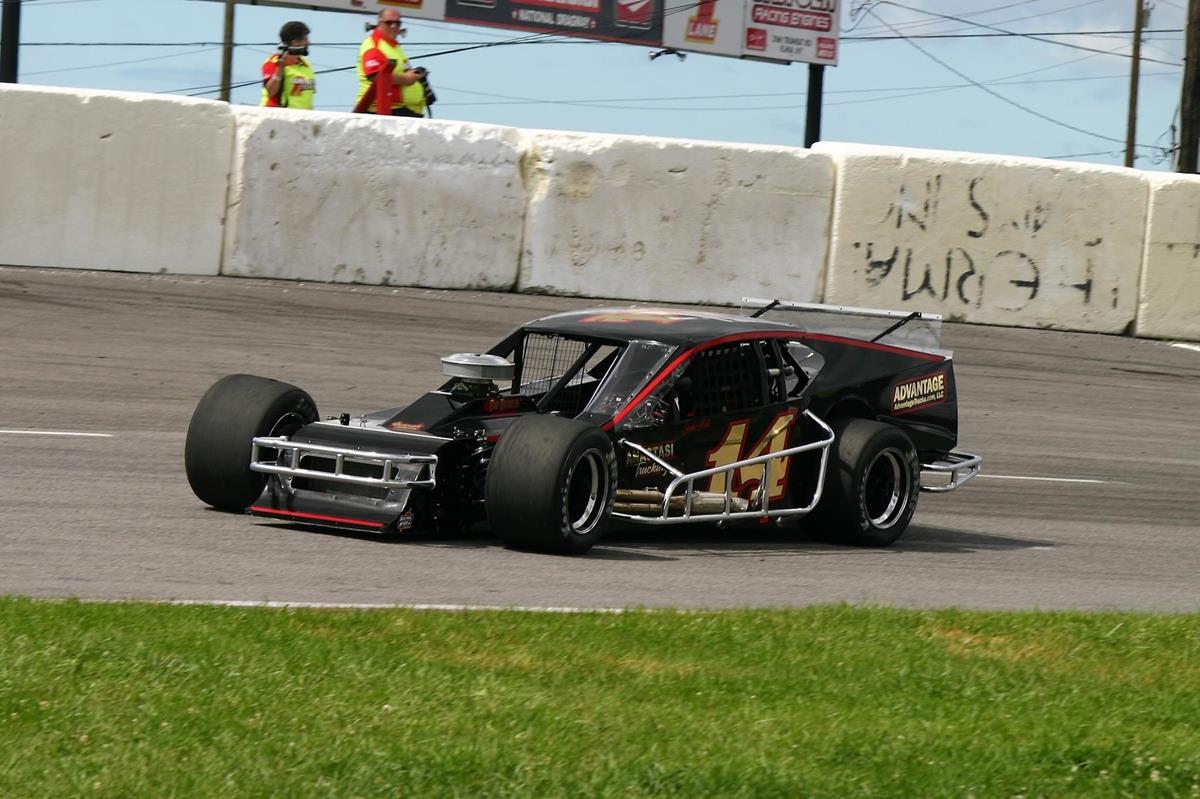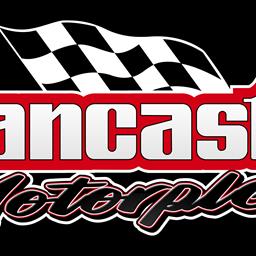 8/15/2023
Lancaster Speedway
---
Jake Lutz Declared Winner of 34th Annual Tribute to Tommy Druar & Tony Jankowiak
LANCASTER, N.Y. (August 15, 2023) – Following a technical review, Jake Lutz from Hamburg, NY was declared the winner in the 34th Annual Tribute to Tommy Druar and Tony Jankowiak for the Race of Champions Modified Series at Lancaster Motorplex. Patrick Emerling from Orchard Park, NY crossed the line first on Sunday afternoon, however failed post-race inspection.
Nik Welshans from West Seneca, NY won the Budget RV Outlet of Buffalo Street Stocks. Russ Bulger Jr from Tonawanda, NY won the Rusty Diamond Cores 4 Cylinder feature event. Kyle Hutchinson from East Aurora, NY won the Mighty TQ Midgets feature event.
Jack Ely and Daryl Lewis Jr brought the car field of Race of Champions Modifieds to the green flag for the Tommy/Tony 110 with Ely taking command early on, as Jake Lutz moved into second place after passing Lewis, with Andy Jankowiak, and Austin Beers racing in the top five. Jankowiak would pass Lewis for third place on lap three, as Beers went to the inside of Lewis for fourth place on lap four. George Skora would work his way into the top seven, after passing Tyler Catalano on lap seven, just ahead of Patrick Emerling. Austin Beers, fresh off his Nu-Way Auto Parts 150 victory, passed Andy Jankowiak to take over third place on lap 21, as Ely and Lutz started to pull away from the field. Skora would continue to move up through the field, as he was able to race around Trevor Catalano for sixth place, with Emerling moving into seven on lap 24. Skora continued his race towards the front of the field, as he would reel in Daryl Lewis Jr and Andy Jankowiak for the race for fourth place on lap 30. Skora would take over fifth place on lap 40, just as race leader Jack Ely would catch the back of the field. Skora would pass Jankowiak to move into fourth place. The first caution of the event would come out on lap 48, as Trevor Catalano spun out of turn four. Most of the teams up front would go into the pits, except for race leader Jack Ely and third-place Austin Beers. Following the restart, Patrick Emerling would move to second place as Zane Zeiner worked his way into third following pit stops. Trevor Catalano spun in turn three on lap 79 to bring out the caution. Emerling would take over the lead on lap 87, as Jake Lutz would pass Ely to take over second place. Zane Zeiner passed Ely on lap 89 to move into third place, as Jankowiak was able to race his way into fourth place. Lutz would start to pressure his teammate Emerling on lap 94, as Skora was trying to re-enter the top five. Tyler Catalano spun on the back straightaway to bring out the caution on lap 97. The restart would see the two Joey Stearns' prepared cars of Emerling and Lutz on the front row, with Emerling taking the lead ahead of Lutz, Zeiner, Skora, and Jankowiak. Danny Knoll Jr spun on the front straightaway to bring out the caution on lap 98. Austin Beers would work his way back into fifth place on lap 99, as Emerling started to pull away from the field. A caution for debris on lap 108 would set up a green-white-checkered finish, with Emerling holding off Lutz and Skora to cross the line in first. With the disqualification, Lutz would score his first career Tour-Type Modified victory.
David Brunka and Gary Bartella were on the front row for the Budget RV Outlet of Buffalo Street Stocks feature event, with Brunka in the lead. Nik Welshans and Bartella battled for second place, with Welshans clearing Bartella on lap three. Welshans would take over the lead with Mike Dalfonso racing in third. Nik Welshans would start to pull away from the field, as Dalfonso was challenging Bartella for second place. Jerry Kosmowski slowed in turn three to bring out the caution on lap 12. The ensuing restart would see Welshans jump back into the lead ahead of Bartella, Jacob Gustafson, Dalfonso, and Mark Hoch, who reached the top five after starting 16th on the grid. Following a David Brunka spin on lap 15, Jacob Gustafson would take over second from Bartella, and would go after race leader Nik Welshans. Welshans would go on to score the win.
John Byrd and Andy Danielwicz were on the front row Rusty Diamond Cores 4 Cylinders feature event. With Byrd in the lead ahead of Danielwicz, Chris Deyoe, Hunter McKay, and Russ Bulger Jr. Deyoe would move into second place and then would go after Byrd for the lead. Bulger Jr would take the lead away on lap 11, following a mid-race caution. Josh Schosek would move up through the field to take over second on lap 16. From a win on the big track last Saturday, Bulger would collect his first win on the Lancaster ¼-mile.
Nick Groff and Erik Musto were on the front row for the 20-lap Mighty TQ Midgets feature with Groff in the lead. Andy Jankowiak and Kyle Hutchinson battled for third, just behind Erik Musto in the early stages of the main event. Chester Haywood flipped on the front straightaway on lap six to bring out the red flag. Chester climbed out of his car under his own power. Kyle Hutchinson would take the lead away from his teammate on lap seven, as Dave Wollaber challenged Groff for second. Wollaber would take over second on lap 10, and would go after Hutchinson for the lead. Hutchinson would go on to win his first Lancaster race of the season, and 10th of his career, tieing his car owner John Casey and Danny Lawrence for fourth on the all-time wins list.
Stock car racing action continues at Lancaster on Thursday, August 17 for the Tribute to Ken Heckler 51 for the Budget RV Outlet of Buffalo Street Stocks. The Monroe Extinguisher Sportsman, Rusty Diamond Cores 4 Cylinders, and the Mighty TQ Midgets in racing action. Also, on tap will be the King Wolf Productions Big Wheels! Kids aged 3-12 can sign up at the picnic tables in the main concourse when gates open and race during intermission and can participate in the Kids Korner Craft hosted by the 50/50 ticket sellers. Pit gates will open at 4pm, grandstands open at 5:30pm, and racing will begin at 7pm sharp.
For more information, follow Lancaster Motorplex on social media and for the complete 2023 schedules, visit the website at www.lancastermotorplexny.com
RACE RESULTS – 34th ANNUAL TRIBUTE TO TOMMY DRUAR & TONY JANKOWIAK
Race of Champions Modifieds: JAKE LUTZ, George Skora III, Zane Zeiner, Austin Beers, Andy Jankowiak, Daryl Lewis Jr, Trevor Catalano, Paulie Hartwig III, Daren Scherer, Shawn Nye, Jack Ely, Sean Verwys, Tyler Catalano, Ricky Knapp Jr, Randall Richard, Austin Kochenash, Danny Knoll Jr, Earl Paules, Bobby Hanel Jr, Timmy Catalano, Mike Leaty, Tony Hanbury, Patrick Emerling (DQ)
Did Not Start: Tommy Catalano
Qualifying Heats: Zane Zeiner, Patrick Emerling, Trevor Catalano
Fast Time: Zane Zeiner (17.232 seconds)
Budget RV Outlet of Buffalo Street Stocks: NIK WELSHANS, Jacob Gustafson, Gary Bartella, Mark Hoch, Mike Dalfonso, David Johnson, Dustin Novoa, Tim Welshans, Mike Piccirilli, Keith Flanigan, Kyle Schosek, Lou Carbone, Mike Rogers, Marty Kling, Chris Barber, David Brunka, Dan Dressel, Jim Loffredo, Jerry Kosmowski, Rick Meyers, Garret Cleversley, Brian Farnsworth, Chris Handley, Frank Batista Jr, Matt Friend, Tommy Wentland, Alex Bialkowski
Did Not Start: Frank Prell
Qualifying Heats: Jacob Gustafson, Nik Welshans, Mike Dalfonso, Dave Johnson
Rusty Diamond Cores 4 Cylinders: RUSS BULGER JR, Josh Schosek, Chris Deyoe, Tommy Hughes, John Byrd, Andy Danielwicz, Eric Black, Wyatt Hannon, Connor Kurdziel, Hunter McKay, Mason Offhaus, Kevin Bainbridge, Tim Offhaus, Ashton Hannon
Qualifying Heats: John Byrd, Russ Bulger Jr
Mighty TQ Midgets: KYLE HUTCHINSON, Dave Wollaber, Andy Jankowiak, Steve Lewis Jr, Erik Musto, Brendan Wallace, Arik McGruder, Vinnie Christiano III, Mark Schulz, Ronnie Flaim, Carl Schroeder, Cory Grenzy, Kevin Wilson, Adam Brown, Nick Groff, Brian Schulz, Chester Haywood, Vinnie Christiano Jr, Andrew Nye
Qualifying Heats: Nick Groff, Andrew Nye
---
Article Credit: Steven Petty
Submitted By: Steven Petty
Back to News